ENJl Mold was founded in 2011, is a professional production of injection mold enterprises. The company has been providing our customers with a high level of mold manufacturing and China's most advanced injection molding technology one-stop solution, to provide you with industrial design rapid prototyping, mold manufacturers and plastic molding final product development and supply.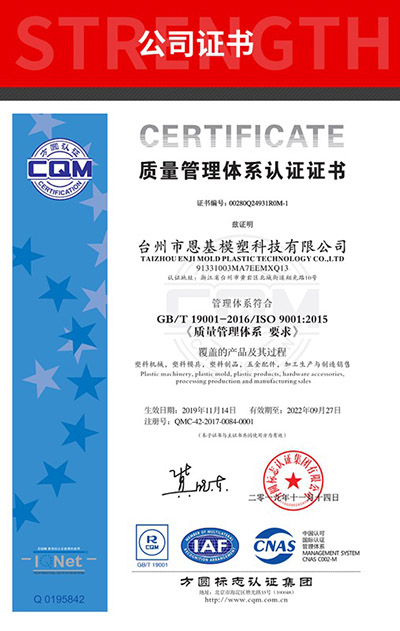 We specialize in the production of precision molds, custom injection molding, integrated assembly. We are committed to providing responsive, solution-driven injection molding services.We have advanced CMM,CNC machine tools,EDM machines, wire cutting machines and other common machine tools. Injection machine from100 tons to 650 tons.We can injection almost any kind of plastic, such as ABS,PC,PBT, TPE,PP, PMMA, PPS,nylon and so on.We produce moulds with P20,718H,2344,2738,NAK80,H13(HRC 52-54),420SS(stainless steel) and other full hard moulds, or according to customer requirements.
Our mission is to help our customers get their products to market faster than their competitors in the most cost-effective manner. If you need help with new product development or plastic product design.Our team will work with you to bring your products to market faster.
We define quality as total customer satisfaction.Quality control is very important to each Mould project. We use advanced measuring facilities and well-constructed quality control system to control every process of design, production and quality check efficiently.
1.Mould Steel Hardness、Dimension lnspection
2.Mould Electrodes Inspection

3.Mould Parts Dimension Inspection

4.Mould Pre-Assembly Inspection

5.Mould Trial Report and Samples Inspection

6.Mould Shipment Final Inspection

We have a design team with more than 20 years of working experience,familiar with the mold design standards in China,Europe,America,Japan and so on,can skillfully use a variety of software for mold and product design.
we are an international company specializing in the development,design, manufacture and export of high quality injection molds. Our markets include the United States,Canada,Australia,New Zealand,Russia,Germany, the Southern United States,Brazil,Peru,Colombia and so on. We strive to provide our customers with the better quality, better service and better price.